Honeycomb core doors, known as (Hollow Core), are manufactured by using a pattern of fibreboard or cardboard to fill in the spaces between veneers to deliver uniform structural support.  These doors are a perfect alternative to solid core timber doors. Honey comb core doors manufactured by Protec Doors are made with Hardwood or Finger Joint Pine framing form cell honeycomb core with lock and hinge blocks. Besides the foresaid materials, honeycomb core doors can also be produced in MDF (Medium Density Fibreboard), Duracoat (Hardboard), or paint plywood face.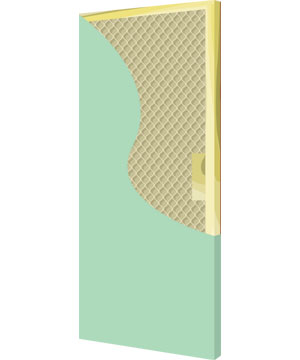 TYPES OF HONEY COMBE CORE DOORS
Paint Ply Face: It has extensive durability and can be used for both undercover external and internal with some preparation prior to painting.

MDF & Duracoat (hardboard): Used for internal wet areas and external undercover use allowing you to paint the faces with minimum preparation.
HONEYCOMB CORE DOOR FEATURES
High-quality interior door.

Offer basic thermal insulation.

Easy to handle and lightweight.

A minimum number of hinges required to hang the panel.

Customization of design and shapes.

Availability of bi-fold and multi-fold options.

Affordable
HONEYCOMB CORE DOOR APPLICATIONS
Due to its fragile properties, Honeycomb core doors are used only for internal application,  i.e interior room decors.