What is the Difference Between Hinge and Pivot Shower Doors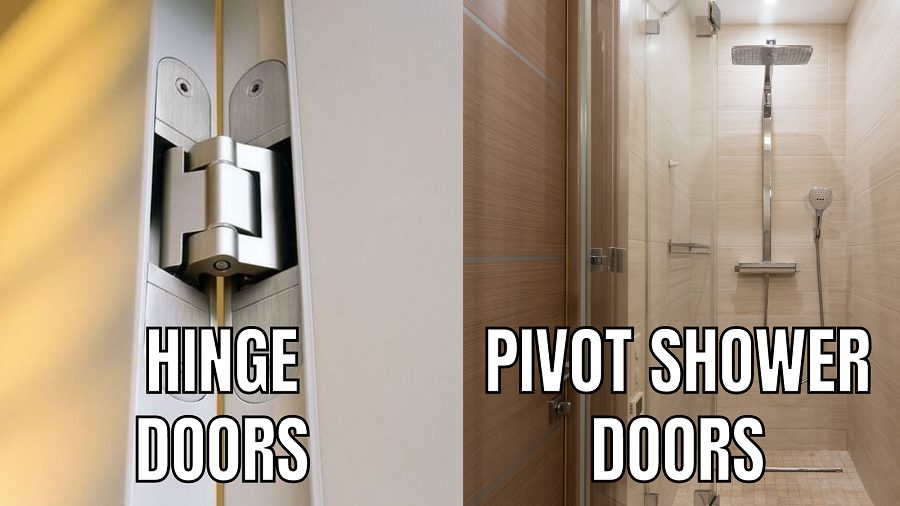 There is something pleasant about shower doors that many people do not realize. The shower door provides access to a watertight shower area and prevents water from escaping during use.
There are countless options for sizes and styles of bathroom shower doors available today, though their primary function may be simple.
The type of door you should choose for your shower will depend on its size and layout, as well as your shower tray.
In this article, we'll examine some of the most popular styles of shower doors, including their benefits and requirements.
The Complete Guide to Hinge Shower Door Vs. Pivot Shower Door
Shower doors can be classified into various types, each with its advantages and disadvantages. As we examine each, we will give you a balanced view to help you make a decision. Questions get asked in the comments section below.
#1. Sliding glass shower doors
Ample shower space is easily created with sliders or sliding glass shower doors. Due to its combination of a fixed panel and sliding panel, this design is popular. Sliders inside a track allow the sliding panel to slide behind the fixed panel for access.
Most manufacturers offer a minimum access space of 500mm. Sliding glass shower doors typically have a minimum size of 1000mm since they must slide behind a fixed panel.
For a bathroom in the UK, the most popular 2-panel system comes in widths of 1200mm or 1700mm.
In addition to fitting into alcoves, many manufacturers will also provide more extended side panels to produce a corner shower. Some designs also incorporate 2 fixed panels and 2 central sliding glass shower doors that open out.
 Pros of sliding shower doors 
The perfect way to create a larger shower space
The door takes up no floor space in the bathroom since it doesn't open out
There's also a chance to make a corner shower if the panel is positioned at the right height
The designs can get flipped to be accessible on either side
Cons of sliding shower doors
A typical size starts at 1000mm wide
The rollers may fail at some point and need to be replaced
Pivot Shower Door
A pivot door is so named due to its offset pivot hinge for heavy doors. About 25% of the way through the length of the door, the hinge is positioned top and bottom. By opening the door to about three-quarters of its width, one can save a little space in the bathroom.
Additionally, this design minimizes the chance of anything going wrong. There have never been any pivot door failures. Because of its simplicity, the pivot door is also more cost-effective. A pivoting door might be the right choice when it comes to a small and cheap shower door.
Pros
Prices are low
Easy to use and don't present any problems
Some designs adjust down to 650mm, making them ideal for small spaces
Cons
The door to the bathroom opens to 75% of the space
Infold / Inswing Shower Door
Shower doors with this unique design are among the rarest. An arm mechanism opens the showering door on the Infold. You're wrapped around once you're in and closed. Others can straddle halfway into and halfway out of the shower area.
The mechanics are stunning, but they do have a price. Inswing doors can cost three times more than pivot doors. It's challenging to drive the price of a product lower since there isn't much competition.
These units are currently made only by Scudo. Space-constrained individuals may be able to benefit from it, however.
As with shower doors, the door is already constructed except for the outer wall profiles. Therefore, appropriate time will not get added to the mechanics' schedule.
Pros of infold/inswing shower door
A great way to save space
Available in sizes between 700 and 1000mm
Features a smooth opening mechanism
Cons of infold/inswing shower door
An intricate mechanism makes the design relatively expensive
Bifold Shower Doors
There is nothing more reliable than a tried and tested old design of the bifold shower doors. These can be found in both residential buildings and caravans. Simple and secure, the inward opening, split-folding design makes operation simple and reliable.
The advantages of bifold shower doors are many; however, some cheaper models of the bifold shower doors can seem bulky and heavy due to their frames within frames.
In addition, many models have 4mm thick glass due to the slimmer inner frame. Due to the thinness of the inner frame, it may be not easy to open and close.
Make sure the one you get is from a reputable company. The chances of it working are better, and it will look better too.
Pros of bifold shower doors
Bathroom space is saved by a tub that opens inward
Cons of bifold shower doors
Glass tends to be thinner
And less elegant than some types of doors
Hinged Shower Doors
You'll get the closest thing to a standard door design with this shower door. A levered handle will not be present, but otherwise, it will be the same except glass in the hinged shower doors.
To install it for a right- or left-handed opening, turn it upside down. Two clasp-style hinges secure the glass to the frame. The hinged shower doors are usually about 6 to 8 mm thick.
The hinged shower doors are often the determinant of both quality and price. Several options, such as easy clean glass, long chrome brass handles, and Italian hinges, increase the cost of the set.
The frameless design of the hinged shower doors is available on some hinged doors. In the commodity market, hinged designs are less common, and these tend to be found in bathrooms with more space. Bifold and infold options are available to those with limited space.
Pros of the hinged shower doors
The frames come in a variety of attractive styles
Allow you to open and close them as you would any door
Cons of the hinged shower doors
Bathrooms with open doors require more space than those with closed doors
Premium fittings and thicker glass may make these more expensive
Hinge shower doors Vs Pivot Shower Doors: Installation & Replacement
Generally, hinged shower doors will either be installed in recesses or paired with side panels to fit into a corner. A square or rectangular shower space is usually a consequence of this setup.
Single-wall setups are far less familiar with some shower doors but are still an option if you do not have a free corner or nook. A pair of side panels are used to accomplish this. You may not achieve this effect with all shower doors, so be sure to check with your retailer or manufacturer.
Door widths are sometimes asked about a lot. We manufacture doors in sizes as small as 700mm for home use. It can be adjusted so that it can go as low as 650mm wide on some models.
In terms of space, 650mm is tight for most people. If you decide on a shower, keep in mind that you should choose the one you feel comfortable getting washed, regardless of what the manufacturer makes. Showers should not be installed just because they comply with specifications.
Making sure you order the correct size door is essential. Customers find this important since sending a piece back is complex and obtaining a replacement may take time and delay the job and incur costs from fitters.
Furthermore, the retailer is also inconvenienced since the actual cost of shipping a pivot shower door is usually much higher than what a customer thinks they're paying for shipping.
The cost of this is often hidden in the product's price. When returned, incorrectly ordered items expose these costs, undermining any chance of earning any margin on price-sensitive items.
Therefore, it is crucial to order the correct door size for the pivot hinge for heavy doors.
A door of 900mm will fit the recessed space of 900mm. There is no room for expansion to 910mm. There are cases where you need to use a filler piece in the pivot hinge for heavy doors.
If the door can get adjusted more than 30mm and fits within an 870mm space, the 900mm door should fit. Putting it simply, the adjustment range is how much the door can be sized to suit individual rooms.
The inner door profile can slide into the outer shapes that make this possible. In many homes, the walls are not always accurate, and the widths may differ. As a result, the upper opening of the door may be wider than the lower opening.
Hinge shower doors Vs Pivot Shower Doors: Cost
You can add value to your home by replacing your bathroom's shower enclosure with a new glass one. Adding new hardware and fixtures to your bathroom can boost your return on investment, even with a simple facelift. The real question is, how much do new shower doors cost?
The answer is complex. There are many options for glass doors available, ranging from hundreds to thousands of dollars. Many considerations affect the price.
One is selecting the suitable material and how difficult the installation is. It becomes more difficult the more complicated the job becomes.
Hinged Vs Pivot Shower Doors: Durability
A pivot door has hinges that allow the door to swing out to open. A few showers have double doors as entrances. Pivoting doors need room to open, so if there is a small or cramped space, this door type may be too big.
As a pivoting door can be mounted with very little hardware, it can be part of a frameless shower door. Frameless shower doors require only hinges for installation. A variety of finishes are available as well as accent colors for the hinges.
More hardware is required for a hinged door, which is meant to give the illusion of a frameless shower door, but for the illusion to work, the frame must be practically invisible.
Frameless pivoting doors are easier to clean than their frame-enclosed counterparts, in addition to offering almost no obstruction. Unlike metal structures that trap gunk or hold moisture, wood is less susceptible to mold and mildew.
Pivot Versus Hinge Doors – Which One Should You Choose?
Choosing an opening may seem complicated, but it is essentially about finding the right one for the location and needs.
Style is the deciding factor when choosing pivot doors. By understanding the potential downsides, you will be able to decide whether it is the right choice.
Despite those downsides, you may still want to choose an entrance that is both aesthetically pleasing and functional, regardless of the location or space.
But if you know that you would be miserable without a full rainfly, or if the available width is realistically a limited one. You would save money by choosing the hinged option!
For more information on doors connect with us!