Can Fire Rated Doors be Painted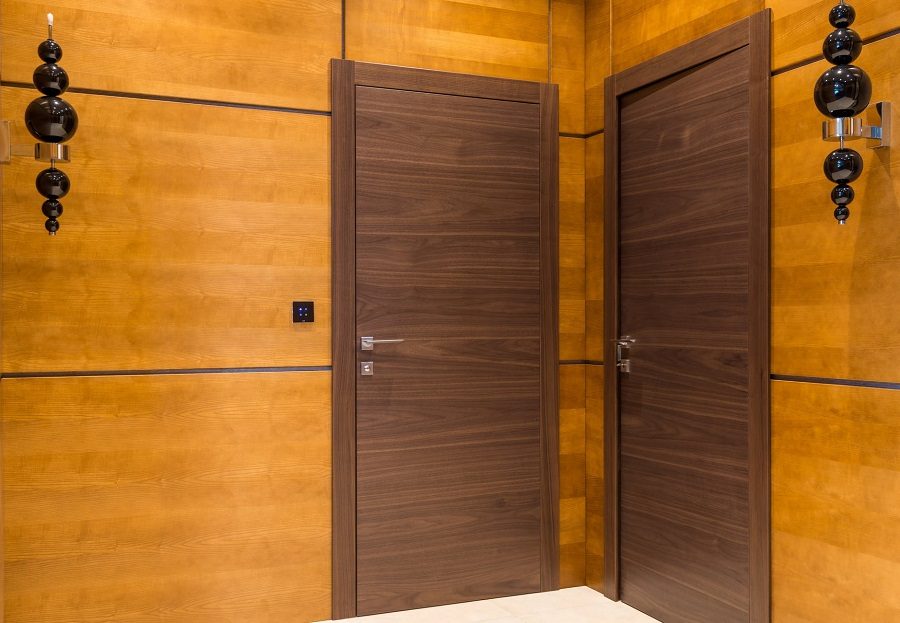 As a fire protection element, fire doors are an essential part of a building. Fire is stopped from spreading by its effectiveness in restraining flame and smoke; property is saved, and occupants are allowed to escape, thus saving lives.
Fire and smoke can spread around the edges of some fire door seals if they are poorly painted or too aggressively painted.
Types of Seals for the Fire Doors
Fire and smoke containment doors get sealed in one of three ways:
Door and frame seals made of intumescent material;
Intumescent heat seals are applied before smoke seals to restrict the flow of smoke.
Combining an inflammable seal with a smoke seal is an intumescent and smoke seal.
Plastering fire doors with leaves
Decorative solid core doors are not required to have specific flame-spread-resistance surfaces, so they can use any kind of paint and varnish they like.
The intumescent seal is painted for the french patio doors
The ability of intumescent seals to perform efficiently is not adversely affected by overpainting them. Seals that are overpainted are less likely to absorb atmospheric moisture, so that they may have some benefits.
It is possible to apply a certain amount of paint without risking rendering the seal ineffective, but there is a limit. The maximum number of coats of conventional oil-bound paint or varnish for an intumescent seal should not exceed five.
Heat and chemical strippers must not get used to preparing doors and frames for redecoration if they contain intumescent seals. Neither process should damage seals, and they must get replaced if they are damaged.
It is recommended that all intumescent seals be replaced with the same type of product as those fitted in the door or frame to ensure optimal results.
As the name implies, smoke seals prevent air and smoke leakage through vulnerable spots on a door, around the perimeter, and where necessary at its threshold.
It is possible to achieve the specified smoke leakage rates with two types of edge seals;
A doorstop that produces contact with the door face is usually fitted with a deflection or compression seal.
Those seals are generally installed at the edge of the leaf or the frame opposite the edge. Overpainting a Smoke Seal Smoke seals need to be flexible to work effectively. Paint must not get applied over smoke seals as this will likely compromise their effectiveness.
The flexibility and effectiveness of smoke seals are severely reduced when painted or varnished. Smoke seals need to be replaced if they have already been painted over.
What to do NEXT upon receiving your Australian standard doors?
As soon as the doors arrive on-site, all four edges and the two faces are sealed if they're not pre-sealed. Veined doors, in particular, have to be closed as soon as possible.
Doors should not be left in their raw state on the job site. If they are not sealed correctly or promptly, they may lose their warranty.
It would be best if you lifted, not slide, doors when you move them. Storage of doors should take place in dry and well-ventilated areas, far away from heat and direct sunlight. They should not be exposed to extreme humidity or temperature extremes.
They must be stacked flat and level off the ground, on three or more equal-sized bearers, and clear of moisture and debris to minimize the risk of distortion by average temperature and humidity changes.
Spacers get used between glazed doors to prevent damage to the glazing bead. Just to avoid dust accumulation and light shading, all entries need to get covered.
Fire-rated interior doors painted and clear finished
You should always follow paint manufacturers' recommendations to achieve the best results. As humidity can deteriorate untreated doors over time, complete and continuous protection by the coating is essential.
Door surfaces should be sealed with a quick-drying primer or undercoat.
The final finish will be enhanced by light sanding between coats with fine paper to remove grain rise.
Tip: The ceramic insulating tape on 60 minute rated doors is used to back the vision panel beadings, quickly absorbing paint. 
Paint the ceramic tape carefully and avoid heavy application near the glass beading to ensure the best results. Also, mask the ceramic tape when painting to protect it. In addition, the gap between the glass and beading gets filled with a thin layer of neutral cure silicone sealant.
Interior doors coated with Protec sealer
Double action doors are treated with a white sealant cured by ultraviolet light (UV) during storage to help keep the doors dimensionally stable.
Additionally, water gets effectively repelled from the door even after being painted with water-based paint. Sealers that are UV cured produce a consistent finish that is easy for the painter to prepare.
It is not necessary to sand before UV curing the sealer. Using a 400g sanding pad, you can buff each surface of the door to prepare it for painting. If all sanding dust etc., has been removed, the door is ready for priming and finish coating once both sides have been lightly sanded.
The sealer must not be scratched while being handled when water-based paint is being applied. UV-cured sealants may mark, allowing moisture from the paint into the skin of the doors. This moisture could become trapped, causing swelling of the skin.
If a UV cured paint is applied to the surface of a door, coarse-grit papers are not suitable such as typical 180 g or 220 g. It may not be evident, but a coarse grit paper may cause damage to the sealer, leading to water absorption from aqueous paint.
Doors with Protec Clear Sealer Coating (P-Core)
Exterior Protec doors are sealed with a clear acrylic sealer based on a solvent solution to enhance their durability. Factory applications of sealer are applied to all six sides as well as to any hardware cutouts.
In a nutshell, the sealant will provide temporary protection for the door before finishing, but it does not replace a quality paint job.
In the event of exterior doors and jambs being exposed to the outdoor elements, it is recommended that the primer coat and one finishing coat be applied as soon as possible after delivery or installation, taking care to coat the leaf and jamb top and bottom.
 Warranties / Durability Alerts
Uniseal Gloss LO gets used to seal any damage to the clear sealer coat before the door can be primed and finished.
Sealing penetrations or cutouts on doors must be done with Uniseal Gloss LO by Cotec
The manufacturer's instructions must be strictly followed when installing door hardware to ensure weather tightness.
You will void the warranty and compromise the product's durability if you fail to observe any of these cautions.
Maintenance and care of fire-rated doors
We recommend that you inspect your door six times a year to maintain it. Wet your cloth when you clean. Chemical or abrasive cleaners are not recommended. Only mild detergents get used.
Ensure the protective or decorative finish is free from scratches and breaks.
In humid areas, such as a bathroom, any crack in the door's surface must be repaired immediately. Maintenance painting and precise finishing should be performed according to the manufacturer's instructions.